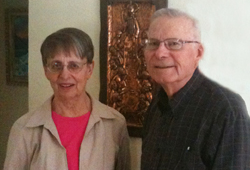 Long before there was such a thing as "take your child to work day," Eugene (Gene) Lilla accompanied his father to his job – as supervisor of Creighton University's building maintenance team – on Saturday mornings and summer days.

Gene recalls the experience as an opportunity to get to know Jesuits informally, although he was certainly no stranger to the Jesuit way of thinking and way of life. Gene and his brother went to school at St. John's Elementary on the Creighton campus, and served Mass and helped out around St. John's Church, where the Lillas were parishioners.

Then came high school, at Creighton Prep naturally. "All students were educated in the Jesuit humanities program and in the Jesuit perspective on life and its purposes—probably more deeply than any of us knew at the time," Gene recalls.

Combined, these experiences contributed to Gene's decision to enter the Jesuit seminary after attending Creighton University for one year. And, while the discernment process led to his choosing a life outside the priesthood after a few years in training, he sees this background as having influenced his actions throughout his life.

"As I reflect on all my history with the Jesuits from early grade school on, these experiences comprise one of the more important blessings from God and His way of guiding my life," Gene says, adding that he has also gained much from Jesuit retreats at the White House in St. Louis.

Feeling "deeply indebted to the patience and counseling of three Jesuit priests at critical periods" in his life, having admiration for those he met during his seminary days, and impressed by news of current Jesuit projects and programs, Gene and his wife Roseann have been motivated to support the Jesuits annually as well as to include them in their will.

One of the ministries they support is care for the elder Jesuits at St. Camillus in Wauwatosa, Wisconsin. Gene knows several of the men residing there from his Creighton Prep and seminary years – including Fr. Bob Fitzgerald, SJ, Fr. Jim Fitzgerald, SJ, Fr. Dick McCaslin, SJ, and Fr. Bill O'Leary, SJ.

"I want to help them live their senior years fully, in a dignified way, with their health and community needs met," says Gene, who had also kept in close contact with Fr. John Lynch, SJ, until the latter recently passed away. "I want to see this for them as much as I want it for my wife and me."

Gene and Roseann also feel strongly about the Jesuits' other priorities.

"The Society's unique combination of a broad humane education and deep Christian spirituality, combined with always looking for new opportunities to spread the Gospel message, have positively affected the Catholic Church, our civic society and various cultures throughout the centuries, and they can continue to do so for future generations," says Gene. "But that requires our help – in terms of prayer and monetary support."

After all, he concludes, "The Jesuits don't work for money and have relied on benefactors from the Society's beginning. That means us."



Eugene and Roseann Lilla are members of the Ignatius Heritage Society – which recognizes and thanks people who support the Jesuits with a charitable gift annuity or a charitable designation in their will or trust.