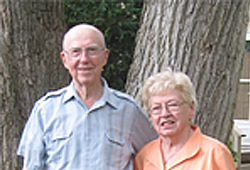 Over twenty-five years ago, Clarence and Bernice Hynes knew about the Jesuits, but hadn't really given them much thought. Today, this Minneapolis husband and wife are faithful long-time supporters who have even gone on an Ignatian pilgrimage.

It all started when a Jesuit visited their church on a Mission Sunday, says Clarence. "He spoke about the Society's activities in South Korea – what they were doing there with the university and local ministry," he recalls. "We were very impressed with their work."

"One of the specific things that impressed us was how the Jesuits from here were training the South Korean people themselves, so they could eventually turn over the workings of the Church to them and move on to serve in other places," adds Bernice.

"Of course, we've come to know so much more about the Jesuits' work in education since that Mission Sunday," Clarence continues. "What the Province is doing in northeast India sounds much like the work they were doing in South Korea when we first became interested. In addition, we are so pleased with the opening of the Cristo Rey School here in Minneapolis; we enjoy the seminars they hold each year for lay Partners; and we continue to learn more about their work at Holy Rosary Mission in Pine Ridge and St. Francis Mission on the Rosebud Reservation."

"Being married 63 years, we work as a team," says Bernice. "This is something we enjoy doing together – learning about and through the Jesuits, and helping them continue their important ministries."

In the course of that teamwork, Clarence and Bernice have done a lot of traveling – including an Ignatian pilgrimage to Spain led by some Jesuits working at Creighton University. "We had been on some similar tours, to Lourdes, and Fatima, for example," Bernice explains. "And we certainly enjoyed ourselves on all those trips, but the Ignatian tour to places like Manresa and Montserrat was eye-opening. I hadn't known that much about St. Ignatius, and this pilgrimage really made him come alive as a person and a saint."

It's been that personal connection that has continued to motivate the Hynes' to be involved with the Society.

"There are so many good causes," says Bernice, "that you have to pick and choose what you're going to support. We have always felt so welcomed by the Jesuits and laypeople associated with the Wisconsin Province. They've made us feel part of a special family. Those personal contacts, the warm invitations to events, and the fascinating work they do all lead us to have a lot of regard for this particular cause."