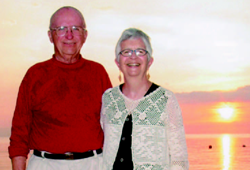 Why do we support the Jesuits? Where should we start?

For one thing, we both grew up in Jesuit-educated families. Both Dick's father and grandfather graduated from Georgetown University and its Law School. Renee's father was an undergraduate and law graduate of the University of San Francisco . These facts probably helped to attract us to each other.

Dick graduated from Creighton Prep and Creighton University, ultimately earning bachelor's and law degrees. Renee could not attend USF (no women were allowed at that time), so she graduated from San Francisco College for Women. She later received a Masters in Ministry while working at Creighton University. Four of her siblings are USF graduates, and one is a former Jesuit of the California Province.

Three of our four children are Creighton University graduates. And one of our grandchildren is in her second year there. The tradition continues.

In addition, for almost 40 years, we have been committed to Christian Life Communities (CLC) -- a worldwide movement focusing on mission and community, rooted in Ignatian Spirituality and the Spiritual Exercises of St. Ignatius, and working in partnership with the Society of Jesus. We have been involved in local and regional leadership, and Renee has served in a national leadership role. Renee is also a spiritual and retreat director, formed by CLC and the Creighton Christian Spirituality Program, specializing in the Retreat in Daily Life, an adaptation of the Spiritual Exercises.

Last, but not least, we have been fed spiritually through membership in Omaha's Jesuit parish, St. John's, for 30 years, participating in ministries of St. Vincent DePaul, the Rite of Christian Initiation of Adults (RCIA), Parish Council and liturgical ministries.

We have been blessed with many Jesuit friends during these years, and have been led through prayer and discernment to support their ministries as best we can. They have supported our desire to "seek God in all things" with wisdom and freedom.

So when it came to our estate plans, there was no question that we would include the Society in some way. We decided to invest in a charitable gift annuity. In simple terms, this is a contractual agreement between a donor and a nonprofit in which assets are donated in exchange for the organization's promise to provide an annuitant with payments for life.

The Jesuits have brought much to our family and to each of us personally. We hope the gift that will come to them through this estate planning tool will help them to continue their mission and good works for a long time to come.