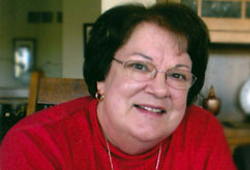 Frs. Brennan, Kornely, Fagan, Jones, Pates, Rausch, Denemark, Maher... These are just some of the names of Jesuits who have impacted my life. (And I didn't even attend one Jesuit school!)

The friendship, kindness, hope and peace these men have extended, and their good works in the United States, have inspired me - so much so that it was an easy decision to include the Jesuits of the Upper Midwest and Great Plains in my will.

It all started when I was studying to become a teacher in the late 1960s in Milwaukee, Wisconsin, and volunteered to work at the St. Francis Indian Mission and School on the Rosebud Indian Reservation in South Dakota during three summers. I met many wonderful Rosebud Sioux as well as Jesuits working with them toward a better future. It was such a positive experience. While there was much poverty and difficulty, there was also so much faith that it strengthened my own.

I met Fr. Terry Brennan, SJ many years after I was in South Dakota. It turned out he had taught there, and we knew many of the same people. Rekindling those fond memories led to a great friendship - and emphasized for me how so many Jesuits truly strive to live the life of St. Ignatius. They make me think of the line in the prayer, "to give and not to count the cost." It's something we should all hope to do with kindness and love, as well as financial resources - but it's difficult!

Speaking of financial resources, there are many good causes in the world, but unfortunately, we can't choose to support them all. We have to make decisions on where our faith is leading us, and for me, that has been to support the Jesuits.

I believe the Society to be a very worthy recipient of my gift, to put it to good use, and secure future activities and programming for good works both here and around the world. The outcome I hope my gift will bring is to enable the Jesuits to achieve and continue their mission to spread the good news and God's blessings. Whether it's elder Jesuit care, missions in Africa, or parishes and schools, I believe they will do what Christ wants them to do with it.

In summary, I trust them to use it ad majorem Dei gloriam (the Society's motto in Latin) - "for the greater glory of God!"
*Maggie Ehm died on July 31, 2013